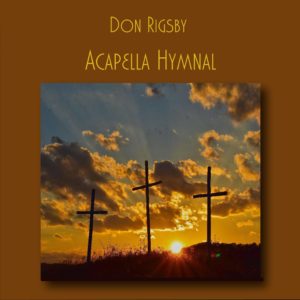 Letter From My Father
Pass Me Not
The Old Rugged Cross
Psalm 23
I'm Gonna Die on the Battlefield
I'll Fly Away
There Is A Fountain
How Great Thou Art
I Want to Stroll Over Heaven
On Heaven's Bright Shore
From John 3
Almost Home
What A Friend We Have in Jesus
Precious Memories
The new CD is available for order!
Buy directly from Don by sending $15, along with your mailing address, via PayPal, and receive your CD in the mail.
From Don:
"I've always wanted to record an acapella project and never really had time to do so until now. The time seemed right.
The concept was simple. I brought a hymn book with me and thumbed through it and when I came to one I wanted to sing, I went in and did it. It's all one take and raw and unedited. I wanted it to be sort of like church. We don't edit there. We can't!
I sincerely hope you enjoy it and get even a small portion of the blessings I've gotten from making it. God bless each of you!"